Discover more from Shaved Meats, Piled High
Blatant self-promotion for my novels because I never want to have a real job again. But, hey, it's only monthly and it's free.
Over 2,000 subscribers
Back from Book Tour
Thanks for reading Shaved Meats, Piled High! Subscribe for free to receive new posts and support my work.
It's over and I'm happy. It was fine. I finished Aug. 3, then picked up my kid at summer camp on Aug. 4. Just last week, someone asked me "how the book was doing," a question that always catches me off-guard because it seems to imply that the book is a sentient being with an active life beyond me. Maybe it is. Based on photos that people share with me on social media, my book has been far more places than I have this summer. Anyway, I told the kind person who inquired that a book basically has the shelf life of yogurt (that line is not original to me) and we both have moved on.
Photo courtesy of Twitter user MfalmeDC
Meanwhile, I've finished another book, and I'm about to submit it to my editor. I briefly considered using this month's Substack to rant about our culture's bias against prolific writers and, lord knows, I could write it quickly. I will say I am still angry about a piece I read complaining about Joyce Carol Oates's output in SEPTEMBER 1982!!!!!! (Imagine how pissed that dude is 41 years later.) I don't want to subscribe to the magazine to get the PDF of the article, but my memory is that the illustration was particularly misogynistic. Anyway, I don't churn, I don't crank; I just happen to have an exceedingly high writing metabolism.
Back-to-School Shopping
It's over and I'm happy. There was a lot of driving, which I hate. But I was reminded that car-time is great for in-depth conversations. I also got my daughter to listen to the podcast How Did This Get Made.
My daughter and I agreed on at least one thing while shopping: People are ruder than ever. No, that's not quite it. People are less aware of other people. Everyone (including us, probably) seems to move through the world with Main Character Energy in a sea of day players.
Anyway, if your kid wants to go to a certain store that is in a nice city an hour away, I recommend finding a cheap hotel and making a get-away out of it. See the sights! Eat at a nice restaurant!
I do not recommend leaving all the newly purchased back-to-school clothes in the cheap hotel room, but hey — more car-time! More podcasts! And we even had time to stop for Arby's mozzarella sticks.
Back to School For Reals
I literally have gone back to school, via an online course I don't want to say too much about because the odds are good that I won't make it through the 10 weeks. I am, in fact, already behind.
Back-to-Back Oppenheimers
I saw Barbie the day after it opened; daughter's beverage is in the photo above. But, with all due respect to people who Barbenheimer'ed, I put a lot more effort than most into seeing Christopher Nolan's biopic. Seeing two movies in one day? Easy. Seeing one movie in eight days? That was surprisingly challenging.
My kid had a Saturday evening party for a friend's bat mitzvah, and the invitation said drop-off was 7:30, pick-up at 11. Now I am always very prompt for pick-up at these parties and I am almost always the first parent to arrive. So I checked the movie schedule and saw that Oppenheimer was at a theater 10 minutes away, starting at 7:45. PERFECTION! I settled in, but I had my phone visible because that's life as a parent. Daughter texted when there was 25 minutes left in the movie. The party was breaking up, she was one of the last ones there. What could I do but leave?
But I really wanted to see those last 25 minutes. Sure, I could go back to the theater, sit through another film and then slide into the auditorium showing Oppenheimer. Back in the day, I used to double up on my movie-going after buying one ticket. But I am old and law-abiding now. So, a week after my first attempted Oppenheimer, I drove to a very nice suburban theater and asked, at 2:40, to buy one ticket to the 12:40 showing of Oppenheimer.
I'm sorry, said the young man in the box office. I can't sell you a ticket once the movie is 15 minutes in. I explained my situation. He explained that the cash register literally would not allow the sale. I asked if I could buy a ticket to the 4:10 showing. I thought we were all on the same page. But after I collected my ticket, another young man shot out of that box office, took up his position at the ticket box and said: "You can't go in, your screening hasn't started yet." He told me it was policy. He told me he would get in trouble with his corporate overlords. He said a camera was watching us and he pointed to a vague spot on the wall. I asked to use the bathroom, where I pondered my options. (None.) So I came out, admitted defeat, and asked for a refund.
This seemed to throw the employees. By now, there were at least four, maybe five young men, trying to figure out how to give me my $10 back, but also earnestly explaining to me why I simply could not enter the theater where Oppenheimer is showing. One of them got on his phone; I assumed he was calling corporate or maybe the cops. Suddenly, a window opened next to where I had been told there was a camera. It was the manager, a woman. I repeated my tale of woe; she sighed and said, "I know, I know, I heard all that." She decided to let me enter the theater, where there were eight other patrons. I took a seat in the back row and and meekly, happily watched the movie. I liked it. On my way out, I thanked the manager. It's a nice theater and I hope to return, even if everyone who works there thinks I'm an enormous pain-in-the-ass.
I'm sure there is a version of this story in which I am a crazed Karen, although let it be known — I did not ask to speak to the manager, the manager asked to speak to me. (I did ask to subvert corporate policy, over and over. And I said one sort-of obnoxious thing, but I never raised my voice and I was relatively polite.) That's how POV works; I tell the story my way, they get to tell it their way. By the way, in my version, I am EXQUISITELY DRESSED because I had a tour at AVAM earlier that day and I go for what I call Boho kindergarten teacher chic for my docent duties. Anyway, I felt bad. I didn't want to be a Karen. So I bought a Visa gift card and sent it to the theater, suggesting they use it for pizza or beer or whatever would give them delight. I'm just glad I didn't end up as a meme.
Once upon a time, in a conversation with my then-husband, he asked me: "Do you always have to have the last word?" I waited a few seconds before I replied. "Not necessarily." Later, he tried to repurpose this exchange for two characters in Treme, but couldn't use my exact words for reasons I forget and it just wasn't quite as good. So, yes, here I am, having the last word about having the last word. Not that I always need to have the last word. But when I have the last word, I really have the last word.
Read/Reading/Listening: Romantic Comedy, Curtis Sittenfeld; The Guest, Emma Cline; Happiness Falls; Angie Kim; Tom Lake, Ann Patchett (audio). Selected poems by Emily Dickinson and Walt Whitman.1
Re-read: The Joyous Season, Patrick Dennis; Fear of Flying, Erica Jong.
Me, Me, Me: I could link to a bunch of reviews/coverage of Prom Mom, but who needs to read about expired yogurt? Instead, please enjoy my stepmother-of-the-groom wedding weekend lewks. If you want to know more about the dresses or the shoes, hit me up in the comments. (One dress is rented; most of the jewelry is used. One pair of shoes is used and the other two are aggressively sought bargains.)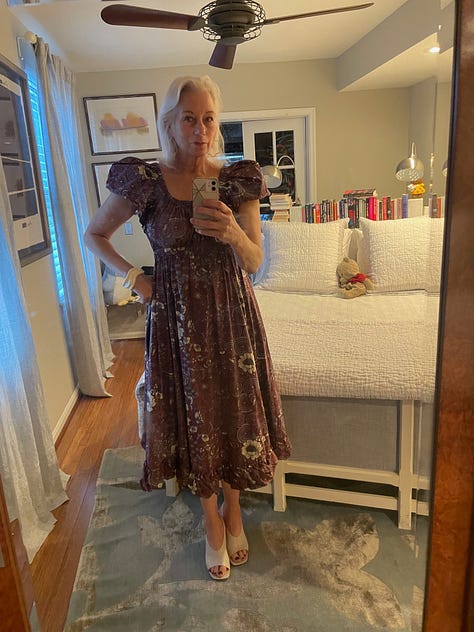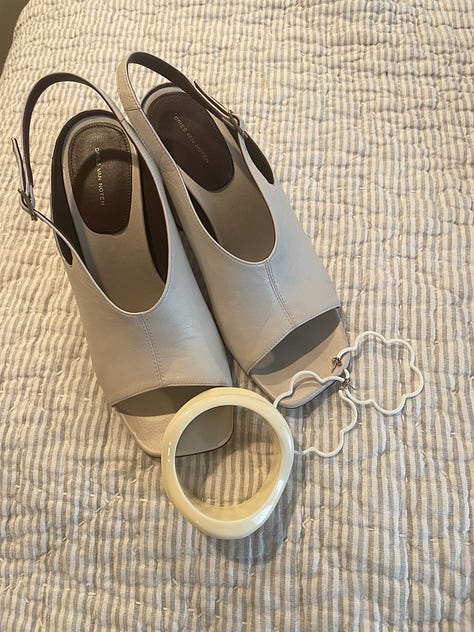 1
Updated because I misspelled someone's name. I feel terrible!