Discover more from Shaved Meats, Piled High
Blatant self-promotion for my novels because I never want to have a real job again. But, hey, it's only monthly and it's free.
Over 2,000 subscribers
Prom Mom goes on sale today. I'll be touring to promote it through Aug. 4. I've decided to put out my monthly newsletter a week early because I'll be in transit on Aug. 1, which would be this newsletter's normal publication date.
I'm not going to make it to the beach this summer, so I will live vicariously through my book
Thanks for reading Shaved Meats, Piled High! Subscribe for free to receive new posts and support my work.
But I've been talking about my novel with several interviewers already and here are some things I'd like to clarify/observe.
Prom Mom is, I think, a good title, but, boy, it's hard to say! My apologies to the valiant radio interviewers/podcasters who have to make sure to take a big pause between those two m's.

Prom Mom is not inspired by any single incident involving the birth of a baby to a teen girl, although there is a specific case that was enshrined in headlines as "Prom Mom."

Yes, I am somewhat knowledgeable about visionary art. But I wish I had undergone my docent training at the American Visionary Art Museum before I wrote this book.
Once upon a time (early aughts), I used to post the same passage from Anne Lamott's Bird by Bird every publication day. "There is something mythic about the date of publication," Lamott notes.
© 1994 Anne Lamott
The funny thing is, publication date is one of those rare things made better by technology. Social media creates the illusion of buzz. Friends can check in via text. Review links are easy to share. Then again, maybe AI can write kinda good-enough books, so why are doing this at all?
Because, as Lamott also writes in Bird by Bird, if people knew how good writing can feel — not all the time, not even most of the time, but just often enough — they would set writers on fire.
I'm a bit chagrinned that my long-standing joke about my career has been "It's better than a real job!" Because, as we've been discovering this summer, a lot of people don't think writing is a real job. It is and it's still worth doing — and people should be paid fairly for doing it.
I sold my first book in 1995. In 1996, on a business trip to Texas, I had barbecue with an old boyfriend and we played the "where do you want to be in five years" game. I said I wanted to be a full-time novelist. He laughed — not unkindly, but maybe also not kindly — and said, "Laura, everyone wants that."
In 2001, I became a full-time novelist. I was small enough to send word, via a mutual acquaintance, that I had achieved my 5-year plan. The ex-boyfriend recollected our barbecue dinner differently, relaying to our go-between that he had been more supportive than I remembered. Maybe he's right. I definitely cultivate my grudges.
I "came of age" in such a different media landscape. I'm not sure I have much useful information about how to succeed in the current one. But there's one thing I'm sure of: If writing makes you happy, write. If it doesn't, don't. In the end, it's the writing that will bring you joy, not publishing. Publishing will test your sanity. Publishing has almost nothing to do with writing. Publishing makes me feel as if I'm naked, scavenging pizza crusts from a garbage can while screaming: "DON'T LOOK AT ME."
But, while I have your attention — please consider buying my book.
Reading/read: Bad Influence, Alison Gaylin; Monster, Claire Dederer; Lessons in Chemistry, Bonnie Garmus. This American Ex-Wife, Lyz Lenz; War and Peace, (audio version read by Thandie Newton).
Re-reading: Guestward Ho!, Barbara Hooton with Patrick Dennis.
Me, Me, Me: Well, I could quote some Prom Mom reviews, and there was some nice Hollywood news, and I loved taking the Page 69 Test, but I'd rather answer the question that almost no one is asking: Have I thought a lot about what I'm wearing on tour? WHAT DO YOU THINK? By the way, this is a good thing about taking selfies; it helps to remind me of my favorite outfits. Also I love how the gallery effect here cuts my head off, so I look like that headless woman from the Halsbrook site, although not as patrician/WASP-y.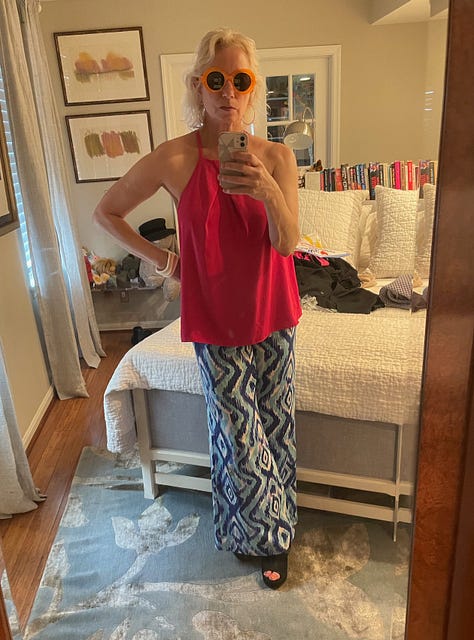 Thanks for reading Shaved Meats, Piled High! Subscribe for free to receive new posts and support my work.