Discover more from Shaved Meats, Piled High
Blatant self-promotion for my novels because I never want to have a real job again. But, hey, it's only monthly and it's free.
Over 2,000 subscribers
Prom Mom will be published on July 25, three weeks from today. I haven't been on a real book tour since 2019, although I did virtual events for My Life as a Villainess (2020); and a mix of virtual/IRL for Dream Girl (2021 and 2022).
I don't think I know how to do this anymore.
Look, I love being a novelist and I am consciously grateful every day for the chance to earn a living by sitting in my house and making stuff up. And, unlike most writers, I'm not even that shy. I like connecting with readers.
But air travel is more brutal than ever; a recent for-pleasure trip, in which absolutely nothing went wrong, left me vibrating with tension and anxiety by the time I arrived at the gate. Luckily, I can reach most of my tour stops without flying. But, yes, that means most of my appearances are in the mid-Atlantic region. Sorry about that. I had to time my book tour to coincide with my kid's two weeks at sleep-away camp and we're really trying to make those 12 days count.
Finally, the weirdest thing about my job is that I have, theoretically, an infinite number of supervisors who make my job evaluations public. At least, that's how I tend to think of reviews. Luckily, I have a pretty thick skin and I don't seek out reviews/feedback/social media posts. My agent has a Google alert set up for me; I won't miss anything positive. And, as I like to tell new writers: The good news will get to you. Also the bad. The important thing is to pay attention to who brings you what. I'm not one to quote Sex and the City (who am I kidding, I am totally one to quote Sex and the City), but Berger got at least one thing right1 when he said: "What was I supposed to do with that scrunchie comment? Was I supposed to hop in my time machine and go back and fix my entire book?" Whether it's constructive criticism or fulsome praise, it's not of much utility. That book is gone, I've practically finished the next one. Hearing what people don't like about a book is like being told there's toilet paper on my shoe — last week.
Or, as the signs around New Orleans say:
I mean, feel free to pound the crap out of me, just leave me out of it? To paraphrase Kathy Griffin: Talk behind my back. It's called manners.
Here is a pre-order link, one last time. As for the tour, here's a quick overview; hit me up in the comments for times, locations: July 25, Baltimore, the Ivy (off-site); July 26, D.C., Politics and Prose; July 27, Rehoboth Beach, Browseabout Books; July 28, Oxford MD, Mystery Loves Company; July 29, A Likely Story, Westminster; Aug. 1, St. Louis Public Library; Aug. 3, Harrisburg PA; Aug. 4, San Mateo CA Library (virtual event).
Read/reading: Since She's Been Gone, Sagit Schwartz; Daughters-in-Law, Joanna Trollope; Bad Influence, Alison Gaylin (continuing the Sunny Randall series created by Robert B. Parker.)
Me, me, me: I took an actual vacation, although it was also for research for the work-in-progress. More on this later, but here are a few photos2 from a pretty magical trip I took with my kid, who's an amazing traveler. And, oh, how surprised they were at the fancy-schmancy Parisian restaurant where they wondered if a 13-year-old was up for a tasting menu.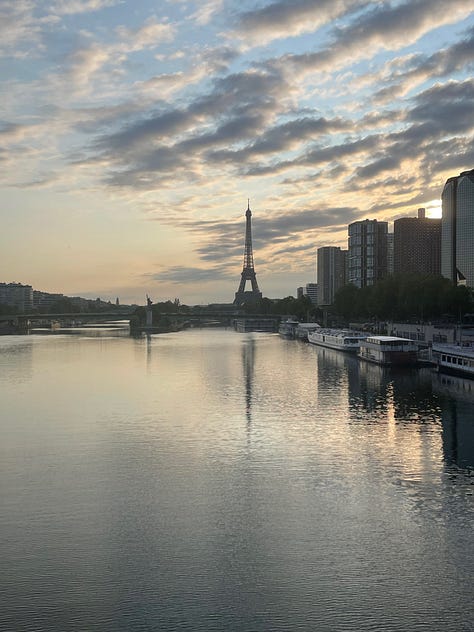 1
I'm also OK with breaking up with someone via Post-it and Carrie should have been, too. It's material!
2
Eiffel Tower on a morning walk; me in a caftan; Monet's garden; Monet's water lilies in the Orsay; a cathedral in Rouen; a close-up of flowers in Monet's garden; two of the eight courses from our super-chic tasting menu.
3
My kid uses both she/her and they/them pronouns, depending on the day; I used "she" here to avoid confusion and more closely parallel the famous line I was paraphrasing.
4
It bothers me to this day, more than 20 years after the fact, that a Baltimore Sun editor took the line "Reader, she married him," out of a profile I had written about a woman finding an unexpected love in mid-life on the grounds that: "I don't know this reference and I'm a very smart person, so if I don't know it, almost no one could understand it." Y'all, I carry my grudges forever. It's why my calves are so defined.